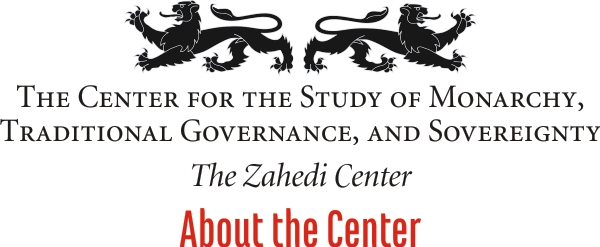 A New Center to Study Monarchies, Traditional Governance, and Sovereignty
The International Strategic Studies Association (ISSA), publisher of Defense & Foreign Affairs, on July 1, 2016, announced the creation of a new, dedicated center to study the impact, philosophies, and lessons to be derived from various forms of monarchical governance, traditional forms of governance related to specific societies, and the question of sovereignty and the nation and nation-state.
In announcing the new body — to be known as The Center for the Study of Monarchy, Traditional Governance, and Sovereignty — the Executive Director of ISSA, Mrs Pamela von Gruber, acknowledged that its formation had been made possible by support and encouragement by the former Iranian Foreign Minister, Amb. Ardeshir Zahedi, who was named as one of two honorary Patrons of the Center. The other is His Imperial Highness Prince Ermias Sahle-Selassie Haile-Selassie, the President of the Crown Council of Ethiopia. [See Patrons page.]
The Center would be based, at least initially, in the ISSA facilities in Alexandria, Virginia, in the Washington, DC, area of the United States. Both Patrons of the Center have been honored by the award of the ISSA Star for Outstanding Contributions to Strategic Progress, and have continued to take an interest in the work of the body. Prince Ermias is a Senior Fellow of the ISSA College of Fellows, and will be active in the new Center.
Mrs von Gruber noted: "Amb. Zahedi, through his lifetime commitment to diplomacy, as well as his writings on Iranian history and Iranian international diplomatic links, has taken generous steps to help ISSA in its mission. Now, we wish to perpetuate the work which he, and his late father and former Iranian Prime Minister, Gen. Fazollah Zahedi, did to demonstrate the effectiveness of governance which is historically rooted in the society from which it springs." Thus the Center's general name — the Zahedi Center — honors both Zahedis for their commitment to good governance, international peace, and their loyalty to their Sovereign.
| | |
| --- | --- |
| | |
| Former Iranian Prime Minister Fazollah Zahedi | |
ISSA President Gregory Copley, who will initially head the Center, noted: "Good governance reflects deep and intrinsic bonds between leadership and the identity and culture of the society which creates its institutions. There is no 'one-size-fits-all' form of governance, and no ideology which does not need to be modified to suit the historical and cultural needs of the society it enters. Monarchies and other traditional forms of governance often work because they are organically part of the societies which create them."
"Sovereignty of societies, nations, and nation-states becomes viable when there is a clear link of people with geography and identity, leading to common purpose, efficiencies of culture and language, and the ability to take on civilizational methods. We have, in the modern world, essentially seen 'civilization' come to mean a formulaic application of ideology and evolved practice which has distorted the natural evolution of organic democracy. This has led to the creation in most modern states of a 'political class' which has lost some of its identity with society as a whole."
"It is to be the work of the Center to learn from history how to better achieve stable and peaceful prosperity, to be able to weather adversity, and be able to innovate. We ignore at our peril the critical rôle of continuity which traditional rites and succession give to stability and progress," Copley said.
ISSA has almost five decades of history in gathering and publishing original research and intelligence on strategic policy and leadership, and will use this capacity to focus on the lessons and options pro vided by monarchical and other forms of traditional, or natural, governance.
ISSA publishes the Defense & Foreign Affairs journals and reports for use by senior government officials worldwide. It also conducts seminars and conferences for that audience, and has already planned a conference for 2017, A Forum on the Rôle of Monarchies and Traditional Governance Structures in Sustaining and Enhancing Sovereignty and Security. That is expected to take place in Washington, DC. Governments with monarchies, or with traditional leaderships embedded within their societies, are encouraged to participate in the activities of the Center. The Center welcomes support from private and public partners to provide archival materials and financial participation to ensure the effectiveness of its work.