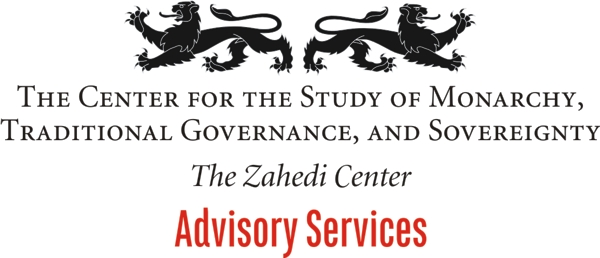 Practical, Confidential Services
Specialist, Targeted Research and Activities to Support Governments, Regnant, and Non-Regnant Monarchies and Traditional Systems, and More
The Zahedi Center, with its origins within The International Strategic Studies Association (ISSA), has a half-century of experience working directly and confidentially with governments and leaders around the world. It has extensive research and intelligence collection capabilities on which it draws, as well as specialists with a deep understanding of policy and strategic trends. ISSA, and the Center, have long engaged in research on issues of sovereignty and governance.
The Center, in 2016 and 2017, for example, planned and conducted three major international Royal Visits which drew major political, diplomatic, and media attention, one major visit to Australia by a non-regnant Royal House being described by a national Australian newspaper as "taking on all the appearance of a State Visit".
The Center can, on a contractual basis, undertake advisory work on the following areas of specialization, among others:
Sovereignty and boundary issues;

Constitutional development;

Historical validation of social structures;

The development, design, and protocols surrounding State, Royal, and Traditional orders, decorations, and medals, and traditional hierarchical ranks and rôles;

The processes and politics of the maintenance or restoration of monarchical or traditional institutions;

The development of, and training in, diplomatic protocols relating to monarchies, traditional governance, and sovereignty sensitivities;

Track II and Track II.5 linkage facilitation between regnant bodies, and between non-regnant bodies, to facilitate security and situational awareness;

Managing, planning, and executing international Royal Visits;

and much more.
For further information, please contact the Director of the Center, Gregory R. Copley, AM, GCHT*, FRCGS, FSS, at GRCopley@StrategicStudies.org