Strategy2005: the Global Strategic Forum: the Revolution in Strategic Affairs (RSA)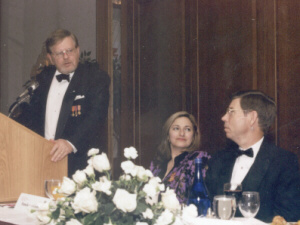 Then-US Congressman Bill McCollum (r) looks on as Conference Chairman Gregory Copley (l) introduces him at a Strategy conference dinner in Washington, DC. Conference Director and Defense & Foreign Affairs publisher Pamela von Gruber is shown in the center.
Strategy2005: the Global Strategic Forum was held in Washington, DC, on May 25-27, 2005. The theme of the conference that year was the Revolution in Strategic Affairs (RSA).
The conference was run over two-and-a-half days, and was open only to approved senior officials from government, industry and academia. Most sessions of the forum, as with all Strategy conferences, are not open for media coverage, in order to facilitate free discussion between officials from many countries.
The Strategy conferences usually bring together official delegations from between 14 and 40 countries.
The International Strategic Studies Association has been organizing major gatherings of senior defense, intelligence and policy officials — often including participation at cabinet, force commander and sometimes at head-of-state/head-of-government level — since 1982, in association with Defense & Foreign Affairs publications.
The most recent Strategy conference — Strategy2003: the Global Strategic Forum — was held in Washington, DC, November 13-15, 2003. It was organized by ISSA and Defense & Foreign Affairs, and cosponsored by the Global Information System (GIS), which is part of the ISSA family, and ISSA's sister organization, Future Directions International (FDI), the Australian strategic policy analysis organization. A link to FDI can be found in the left column of this page.

Delegates to Strategy conferences come from as many as 40 countries. The gatherings provide many opportunities for discussion and meetings in an intense environment of learning and social activities.
The Strategy workshops are intense sessions for working professionals in the field. Proceedings of the open portions of many of the earlier Strategy conferences are available for purchase. Just click onto the link [Order form for ISSA products] in the left column.
Defense & Foreign Affairs and ISSA have arranged a wide range of professional conferences on strategic topics — ranging from the annual Strategy conferences to specialist conferences on Force Modernization, Psychological Strategy and the like, since 1974 in the US, London, Cairo, New Delhi, Canberra, Taipei, Athens, Munich, Singapore and other locations.
Please contact Conference Director Pamela von Gruber by email to register your interest in participating in the next Strategy gathering. As well, watch this web page for details of the next event, and for the on-line registration forms.